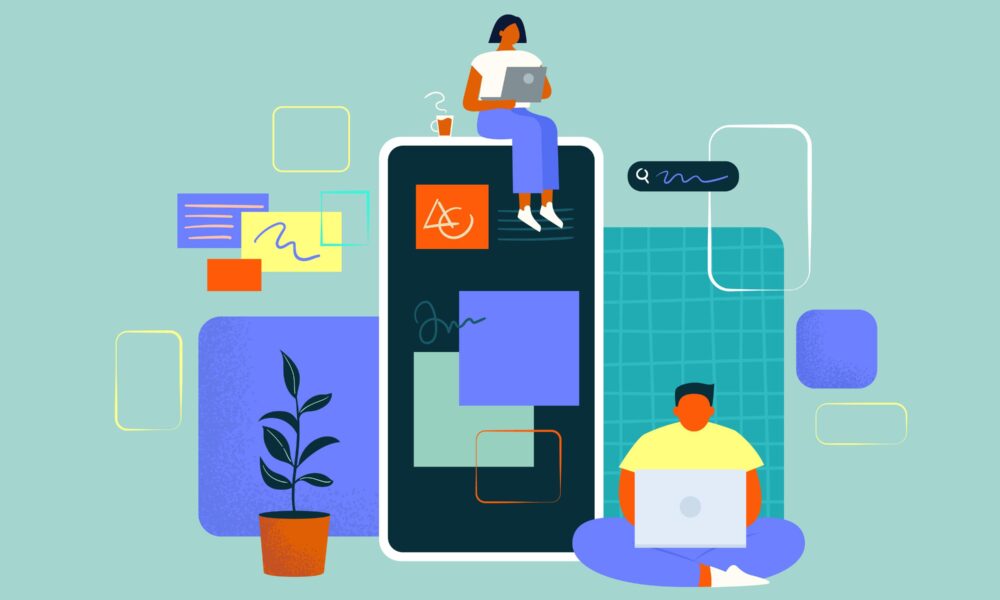 Remember when kids used phones for long and parents would chastise them for it and pluck the phones away? Oh, how the tables have turned! Educational apps are the lifeblood of parents these days, especially since a pandemic ravaged the school grounds. 
Since smartphones came into existence, they've been used for children even as young as a year old to keep them engaged. And rightly so. Technology has advanced so much to the likes of augmented reality, video chats, and gamification which are used predominantly in E-learning apps. Nowadays schools, colleges, universities, and private institutions alike rely on educational apps for, well, everything. And not just students use apps these days! Even a 70-year-old who wants to learn a new language can do so. They have changed the educational landscape forever.
In 2020 alone, there have been 500,000 downloads of educational apps. It's the third most popular category on the app store followed by games and business, and the 2nd most popular in Google Play. Its revenue is expected to expand by $46.9 billion with a CAGR of about 26%. Google Classroom has been identified as the e-learning platform with the most downloads in April 2020 (28.2 million), followed closely by YouTube Kids. These numbers clearly show that the need of the hour is Educational apps.
So, you might be an entrepreneur, or a well-established business looking for your next big break. Investing in an educational app is the way to go. It is a highly lucrative industry at the moment and the scope is wide. With no limits to the ideas that can be used to build an app, anything is possible. Let's look at some of the types of educational apps that are out there so as to give you an idea of what's in store. 
These are some of the widely used apps in the past few months. With schools mostly shut and children learning through online mode, students, teachers, and parents would need a reliable platform to assess, review, grade, initiate discussions, announce information, share notes, and conduct virtual classrooms. Classroom education apps do it all. They usually have a very interactive and user-friendly interface which makes the learning experience seamless.
Examples of such apps include Google Classroom, Edmodo, and Blackboard Learn.
Playful learning apps/ educational apps for kids


Who said learning is not fun? These apps have revolutionized the age-old mechanism of learning by integrating play and games into the learning environment. Information presented is simplified with lots of colors, games, songs, and rhymes. These apps particularly cater to kids below the age of 12. They boost creativity and encourage curiosity and intrigue to think outside of the classroom and the general learning environment. E-books and encyclopedia apps also fall under this umbrella.
Examples include Dr. Panda, Toca Lab, and Kindle.
These apps have also gained a lot of attention in the past few months owing to the wide range of topics they cover. Be it a 2-week course on baking or a full-fledged graduate program in management, these apps offer courses from all over the globe. The information is dispersed through videos with instructions over audio, accompanied by a virtual board. In some cases, teachers Livestream lessons. Study material is sent online or in-person too. These apps are interactive and track the progress of the pupil.
Examples of these apps are Byju's, Udemy, Khan Academy, Coursera.
Everybody loves learning new languages. Even if they don't get to actually go to the native country and speak it. Language learning apps have made this easy like cakewalk. A wide variety of apps are available to choose from and lessons are dispersed in a fun and attractive way. Vocabulary, dialects, reading, comprehension, and pronunciation are all covered, making learning a new language convenient and fun for all ages alike.
Apps like Duolingo, LabbaYo, and Memrise are examples.

These apps predominantly cater to the large population of students preparing to take big exams like the SAT, aviation exams, IELTS, etc,. They have a big database covering a lot of subjects and offer scheduling and assessment systems. Pupils learn through tests, quizzes, and flashcards. These apps usually integrate mock tests, FAQs, tips, and curricula to help students practice often. 
Examples include Grade up and Pocket Aptitude.
Features to be integrated into educational apps
When it comes to educational app development, it's all about the features. Users will look for ease of use, interactive user base, and accessibility. So including effective and exceptional features are mandatory. Consider the following.
Registration and login


User profile


Feed


Social media integration


Push notifications


Audio and video streaming


Search


Scheduling


Offline mode


Database 


Feedback 


These are just some of the basic features that are normally included in educational apps. On top of this, you can add more advanced and unique features based on your ideas. 
With the online education sector being highly remunerative, an investment is sure to bring in immense ROI. If you're looking for expert app developers to bring your ideas and objectives to fruition, consider Inoru, an app development company proficient in developing clone apps like Byju's clone, Udemy Clone, and Lynda Clone. Connect with us to know more.